---
HotRox Hand Warmers The End To Cold Hands
HotRox is the UK's No 1Electronic Handwarmer Brand. For 10 years HotRox has lead the way in the design and manufacture of advanced Electronic hand warmers. HotRox is the modern solution to cold hands. HotRox hand warmers are simple, safe and easy to use. You turn them on, you turn them off. They can be recharged again and again. What more could you want - no boiling, no fiddle, no fuss
---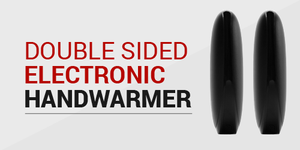 HotRox Double Sided Electronic Handwarmer
HotRox Double provides up to 6 hours of comforting heat on Medium heat setting (45°C) and up to 3 hours on high heat setting (50°C) HotRox provides HEAT on demand. HotRox Double Sided Electronic Handwarmer and power bank are simple to use. HotRox can be turned on (or off) by pushing the on/off switch for 4 seconds - HotRox heats up within 15 seconds. HotRox always starts on the medium setting and can be changed to the high heat setting by pushing the on/off switch briefly. HotRox can be turned on / off to suit your mood. HotRox hand warmers are great for any activity when you feel a bit nippy. So are ideal for Walking, Golf, Commuting, working outdoors, fishing, camping, cycling, watching live sport.
---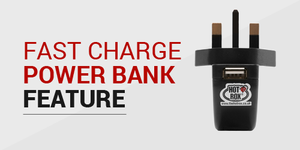 HotRox Power Bank Feature
HotRox has a fabulous power bank feature as standard giving 2 full charges to all USB smartphones giving POWER on demand whenever you need it. HotRox can recharge any product that uses 5V USB - so many cameras, sat navs, range finders, torches etc. The Power Bank feature works when the HotRox is off. Simply use your normal Mobile USB charge lead and plug into the USB socket at the base of the HotRox - your mobile will start to fast charge. The HotRox has a 3 LED power level indicator - when all the lights go out the unit needs recharging.
---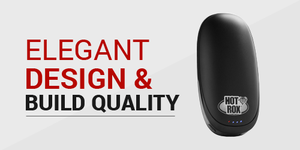 HotRox Elegant Design & Build Quality
HotRox has been ergonomically designed and sits comfortably in the palm of your hand. It is the perfect shape for your hand and has a smooth tactile design. HotRox oozes quality - solid enough to be substantial, light enough to be used without effort. HotRox has incorporated 2 advanced friction heat plates aiding the rapid movement of heat across the hand warmer . Creating full heat across the whole HotRox. Your HotRox Handwarmer with Power Bank feature needs to be recharged when empty. This is very simple. Either from a mains USB charger , pc / laptop or other USB charge sockets. Charging typically takes from 2-4 hours depending on charge rate.
---
HotRox Handwarmers on the Alan Titchmarsh Show